Edward Russell Horwood - Vicar for a record breaking 51 years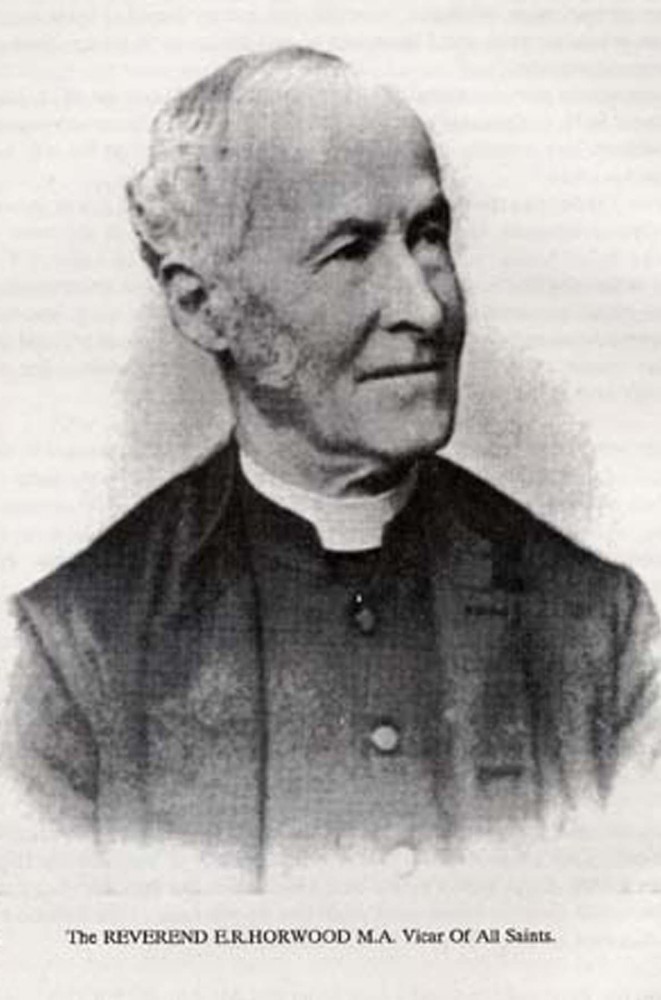 Updated transcript of a talk delivered by John Clifford to 'Saints Alive' in 2007
Whilst this discourse purports to deal with the life and times of Edward Russell Horwood, it in fact ventures into the Horwood family history generally. Quite surprisingly, for a man who had such an active and involved life, there is a lot we don't know about him so to confine this discourse to the one man would, I fear, make for a very short talk. I shall, however, do my best to give you some insight into his life.
For those who may not know, Edward was the vicar of All Saints' Maldon for an incredible 51 years from 1850 to 1901 and Rural Dean from 1872 to 1898. He is, in the past 650 years, the longest serving incumbent of All Saints' and, whilst not wishing to presume anything, I think it is unlikely that any of us will ever see a vicar serving us for longer at our church. His golden jubilee was on Friday 5thOctober 1900, just a few months before he died. We cannot claim that he is the longest serving vicar of this church as such records as exist show that Ralph de Luffenham was incumbent from 1294 to 1361 – 67 years – although there is, of course, no way of substantiating this.
If anybody had mentioned Horwood's name to me three or four years ago, I should probably have just looked blankly at them whilst desperately trying to think who he might be so it would not be appropriate for me to criticize anybody here today who may have looked at me equally blankly. Had I been more observant at that time, I might have noticed the plaque to the left of the choir vestry which mentions his name and this would have drawn me to the East Window which is dedicated to Edward. On my way back, if I looked on the left of the entrance to the D'Arcy chapel I would probably have seen the list of incumbents over the years with his name on it.
So what led me along a path which has kept me busy for these many months? Round about 2006 an email popped up on my computer monitor and it was from a lady named Elizabeth Buchanan who lives in Orange on the east coast of Australia not far from Sydney. She had spotted my name on the church website and made contact to ask if I could provide any further information on the reverend gentleman who is the elder brother of Captain William Spry Horwood, great great grandfather of her husband, Brian. Further mention will be made of William later.
I was able to provide her with a few snippets which she did not already have and, sensing my interest, she sent me volumes of information which she had already gleaned including a fascinating family tree which tells us much about the extensive Horwood family – a name which, sadly, seems to have all but disappeared. Since that time Elizabeth and I have become keyboard friends which is something akin to pen friends except that communication is carried out via computers. Fortunately I have a plan which allows me free international calls so we often speak by telephone too. Being a keen cricket fan, however, I have learnt that it is not the best idea to telephone Australians at a time when England are being soundly thrashed in a test match series!
So, on to the point of my talk here today. Edward Russell Horwood was the second of ten children born to Edward senior and Harriett who lived in the Buckinghamshire village of Aston Clinton. Edward senior was a very wealthy man who started the business of Horwood and James, Land Agents, who at that time worked closely with the Duke of Buckingham. The company still exists but are now Horwood and James, Solicitors. Records show that the Horwoods occupied The Manor House, a magnificent mansion in Aston Clinton, for some ten years but it would appear that residency was only taken up in 1853, the year before Edward Senior died, so it is assumed that the family continued to reside there after his death. The property is referred to as far back as 1333 when it was owned by Sir William de Molyns and it was subsequently owned by many members of the nobility and even, in recent years, Noel Edmonds and then a yuppie city financier who wanted it as a holiday home. At the time Horwood occupied it, it was owned by Sir Anthony de Rothschild whose influence in the area is considerable.
Some of Edward junior's siblings will be mentioned today but I have also produced a family tree, based on information provided by my Australian friends, which may help give a better understanding of the family structure. Sizeable as this tree may appear, it only scratches the surface of the family.
As I have already suggested, Edward's family were wealthy and this wealth is illustrated by a codicil to Edward senior's will in 1849. It made provision for an advowson in the name of Edward Russell. My understanding of an advowson is that it is in effect a sum of money paid or promised to purchase an incumbency – perhaps in a manner similar to the purchase of a commission in the army or navy at that time. This could be refused by the Bishop of the time but seldom was and the money paid was used to assist with the upkeep of the church. The advowson that Edward made was in the sum of £3,965 which may not seem excessive but remember that we are talking about 158 years ago. In today's money this equates to about £375,000.
Appointed to the living at the age of 29, Edward was extremely popular with just about everybody in Maldon, worshippers and non-worshippers alike and it would be a gross understatement to say that he led a rather active life. He was a Justice of the Peace, school manager, member of the Maldon Board of Guardians, Governor of the grammar school, Librarian of the Plume Library and an all round sportsman. He participated in rowing, cricket, golf, lawn tennis, swimming, hunting, shooting and he was described as being a capital horseman and the fastest runner and best jumper at his college. He was a Founder President of Maldon Golf Club and served as President of Maldon Rowing, Cricket and Lawn Tennis clubs, as well as the amateur dramatic and philharmonic societies. I was grateful to Robert Shanks who recently pointed out to me that, at Maldon Golf Club's centenary celebrations in 1991, he was privileged to play the part of Edward Russell Horwood in a re-enactment of the club's founding ceremony.
Edward was educated at Brasenose College, Oxford where he gained an M.A. degree in 1846. He was also a very prominent Freemason and one of the first members of the Lodge of St. Peter who meet at Cromwell Hill. This lodge has been, over the years, and still is very generous to All Saints. If you look at the lectern in our church you will see that there is a plaque on the base which commemorates the fact that it was presented by the masons in gratitude for being allowed to hold their meetings in the tower of St. Peter's church when they had nowhere else to go.
Having once got the bug of interest and curious to see what else I could find out, I undertook to locate Edward's grave. At the time I was not sure if he was even buried in Maldon although it seemed a fairly safe bet that he was. The one certain thing is that his body was not in All Saints' graveyard as interment there had ceased many years previously.
In the event and with the help of Maldon Council, his grave has been located at London Road Cemetery. The grave also contains the remains of Edward's year old son, Edward Dudley Horwood who died at the vicarage in 1860. Regrettably it has been badly neglected over the years and is grossly overgrown with brambles. It was at one time my intention to try to get the grave cleared so that we could go at least part way to restoring it to its former glory and then hold a short service there. It would have been nice to do this in memory of a great servant to All Saints. Regrettably a lack of sufficient bodily mobility on my part and the reluctance of others to come forward to help means that this will now probably never be achieved, which I find to be very sad. The local council have pointed out that they have no responsibility for this.
One other thought came to mind and that was to carry out some more research with a view to finding out where Edward's wife Caroline is buried. As she died 15 years after him, however, it is highly likely that she moved elsewhere in the country so this a difficult task. There is no evidence at present that she is buried on the same site as her husband.
I have also been able, with the help of the Plume Library, to locate three ERH sermons. These make for very interesting reading. I shall hopefully be reproducing these on this website in the near future.
On Sunday 22ndOctober 1865, in a sermon dedicated almost totally to the death of Prime Minister Lord Palmerston, his words were ones which I only wish it would be possible to echo today: "Our country is in possession of a wealth and prosperity unprecedented in her annals; she is at peace with the world, and, what is a singular coincidence with the death of our great statesman, all the nations of the earth are at peace with one another." Wouldn't it be nice if we could say that now. Poor Edward must be turning in his grave to see the world in 2011.
Another sermon preached in the Chapel of the Maldon Union on Friday 5thJune 1874 did, I admit, bring a smile to my face. Having addressed his younger listeners and done his best to inspire them to great and Godly things in their lives, he then went on to say:
"It is necessary, above all, to you, my aged and venerable hearers, who are bending under infirmities and tottering on the staff of age. You have one foot already in the grave; the taper but faintly glimmers; the sand is nearly run out. A few more suns may rise, a few more evenings close upon you – they cannot be many – and then the slender thread of your existence will be cut by that hand of dissolution which spareth none."
Not too encouraging, I think you will agree and, as an aged and venerable hearer myself, I think I would prefer not to develop that theme any further. One thing is certain and you will have gathered from the foregoing that Edward did not believe in mincing his words. At the same time, however, we have to accept that it is part and parcel of the job description of a parish priest to prepare us for what lies ahead.
He also appeared to enjoy being controversial. He was firmly of the opinion that Maldon, not Colchester, was the Roman town of Camulodunum. He felt that his reasoning was obvious. The Romans were said to have built a hill-top temple on a site of more ancient worship which was a perfect description of All Saints'. "Where", he argued, "but on the crest of a hill, under some wide-spreading oak would the druidal temple stand?"
Inside the temple, the Romans had perished. It was said that their blood, aided by the natural drainage of the location, flowed straight into the river below, turning its waters black. The Romans called it "Aestuarium Idumanum" – the Blackwater.
Although many claim that the large finds of Roman coins discovered at Colchester proved it to be Camulodunum, Horwood was not impressed. He reasoned, with faultless logic, that if a town had been sacked and pillaged then, surely, the riches would have been taken away. Very few of such coins have ever been discovered in Maldon and therefore, he argued, it proved that Maldon was Camulodunum.
He wanted the row of shops on the High Street in front of All Saints' to be knocked down and argued that this would reveal archaeological proof that the massacre of the Romans by Boudica took place in the graveyard of his church.
Horwood also, however, had a keen sense of humour and this is evidenced in a speech he gave on 19th February 1878 on the occasion of the opening of the rebuilt Maldon bridge which was, in the opinion of most Maldonians, the ugliest thing they had ever seen. In voicing this view publicly, he went on to say that he "thought the old bridge was good enough to carry us all over for many years to come unless we have banquets continually spread before us such as we have had today, or our borough funds become suddenly enriched and our Mayor and corporation had a larger supply of venison, turtle and other traditional fare than we can at present afford them."
He was also not afraid to get his hands dirty when there was a need. In 1873 there was a massive fire at Sadd's Warehouses and timber yard. It was necessary to throw burning timbers into the river and, true to form, one of the first people into the fray pulling the burning debris clear was Edward Horwood. He was similarly seen in action on Sunday, 17th January 1892 when a large part of Maldon High Street was burned down – truly a man of action.
In the spring of 1901, Edward, now in his eighties, had been ill for some time. On a wet day he was caught without an umbrella and was lent one to get home. An hour or two later, with the rain still falling, he took it back to its owner and returned home unprotected. He died at three a.m. on Sunday, 30th June 1901.
Edward's funeral is well documented. Suffice to say at this time that virtually all business in Maldon closed down and the streets were packed with mourners – such was the respect in which he was held. I have copies from the Essex County Chronicle and Essex County Standard of 5th July 1901 of articles giving greater details and it is the intention to reproduce these on this website in the near future.
In 1902 the present East Window was installed and, in the bottom right hand corner, it is inscribed: "To God's eternal glory and the beloved memory of His faithful servant E.R. Horwood, vicar of this parish from 1850 to 1901, this window is dedicated by his parishioners and family 1902."
It was stated at the time of his death that one of the objects nearest to Horwood's heart was the restoration of the interior of All Saints. I have to say that I suspect not a lot has changed there even after more than a hundred years.
As I said in my opening comments, the researches carried out in this exercise reached out into the extended Horwood family. For example, I am in regular contact with a young man named Jonathan Spurrell, an Englishman who works in Paris as an interpreter. He is another descendant of the Horwoods, something like the great great grandson of Caroline Horwood, Edward Russell's youngest sister who married the Rev. William Stuart a direct descendant of King Charles II. Jonathan came over to England for a few days in 2006, during which time Canon David Atkins and I met with him to show him round the church and I later took him to the cemetery and the Plume Library.
This research has taken me to some very interesting places and some fascinating facts have been uncovered.
I have learned that amongst the Horwoods and their descendants feature royalty (as just mentioned), generals and other high ranking army officers, many Italian Counts and priests galore. We find a Horwood descendant married into the Borgia family – more specifically Alberto Borgia who was the fascist chief of Florence in the 1920s. It has been a problem sometimes to avoid getting confused by the many surnames which have cropped up. To name but a few we have Spurrell, Stuart, Spry, Fothergill, Aldridge, Tingey, Cooke, Logie, Ormond, Learmonth, Prendergast, Gotto, Hooper, Hall, Bruno, Scarrone, Hughes, Dickson, Ferrins, Melita, Cooke, Scroffa, Congreve – and the list could go on.
I find that there was a Charles Horwood who played cricket for Sussex but died in 1870 at the age of 30. We believe him to have been a family member but cannot yet substantiate this.
Of particular interest have been the letters from India to family members from Edward Russell's younger brother, Captain William Spry Horwood – all 97 pages of them - in which he tells of his experiences in the Indian Army at that time. You will recall that I mentioned him earlier as the great great grandfather of my Australian contact. His is a sad story. He went to India in 1840 as a 17 year old Ensign and served there for the next nine years. He married Jane Hall in 1846 when he was just 23 and they had a son, Charles in 1847. William died of tuberculosis in 1849 at the age of 26. His son grew up and joined the army and, on leaving, he gambled away his inheritance then went to work as a miner in New South Wales, Australia before he died in 1911 of pneumonia and influenza at the age of 64.
It has also interesting to read reports of the murder in Russia in 1906 of diplomat William Horwood Stuart, nephew of Edward Russell Horwood and son of Rev. William Stuart (Edward's brother in law) who was Vicar of Mundon from 1862 to 1889. The murder was shrouded in much mystery although suffice to say that it occurred at a time when Joseph Stalin was growing in power and influence.
Where do we go from here? Well, Maureen and I have been to Aldermaston where we visited St. Mary's church where the Rev. Faulknor Russell Horwood, son of our former Vicar, was incumbent for 38 years. We then went to All Saints' church, Buckland in Buckinghamshire to see a stained glass window dedicated to Edward Senior, his wife and daughter and from there to Aston Clinton, the family seat of the Horwoods and St. Michael and All Angels Church. We found no less than eighteen graves of assorted Horwoods, most pre-dating the period of my investigation, as well as various other memorials in the churches and a variety of written references to more Horwoods than I could have imagined. I have taken pictures of all these graves and memorials as well as the churches in which they are situated and would be happy to show them to anybody on request. As many of the older gravestones are barely legible I also have available a complete transcript of what is written on each.
I should like to finish on a lighter note concerning Faulknor Russell Horwood, taken from a local Aston Clinton book: "It is recalled, with some half remembered pain, how the moustached fox hunting vicar had a mannerism whilst preaching that amused the generally bored choir boys. He had the habit of bending right down in the pulpit and bobbing his head as he did so as he emphasised 'yes, yes, yes'. The boys' game was to count the number of occasions that he performed his elaborate affirmation during the sermon – accompanied no doubt by knowing smirks and nudges as the tally rose. Unfortunately (for them), schoolmaster Mr. Randall was the organist and with professional insight he noted this behaviour and drew his own conclusions. On Monday morning with due regard to the moral welfare of the boys in his charge – 'they got a clip round the ear hole'."
The research continues, albeit in a very quiet way, in the hope that at some point we shall discover something new which will set off a desirable chain reaction.
---