Edward Bright - the 'Fat Man of Maldon'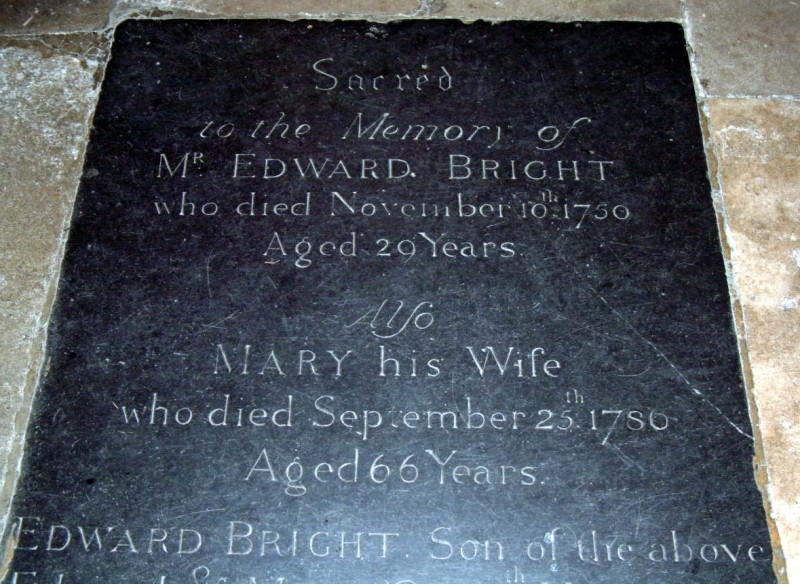 Tombstone of Edward Bright and his family, who are interred at All Saints' Church. Various sources state that Edward Bright, the famed 'Fat Man of Maldon' died in 1756 but he did, without a question of doubt, pass on to greater things in 1750 as evidenced by parish records and clearly marked on the tombstone.
Entry from parish records detailing his burial on November 12th, two days after his death. It reads as follows:
Edward, a Tallow Chandler and Grocer of this Town was buried the 12th of November in the parish Church of All Saints near the Belfry door. He weighed upwards of forty two stone, Horseman's Weight, his coffin was three feet six inches over the shoulders, six feet seven inches long and three feet deep. A way was cut through the wall and stair case to let it down into the shop; it was drawn upon a carriage to the church, slid upon rollers to the vault made of brickwork and interred by the help of a Triangle and Pulleys. He was 29 years of age the first of March last; has left a widow now big with her sixth child. He was a very honest Tradesman, a facetious companion, comely in his person, affable in his temper, a kind husband, a tender Father and valuable Friend. William Benson, Vicar.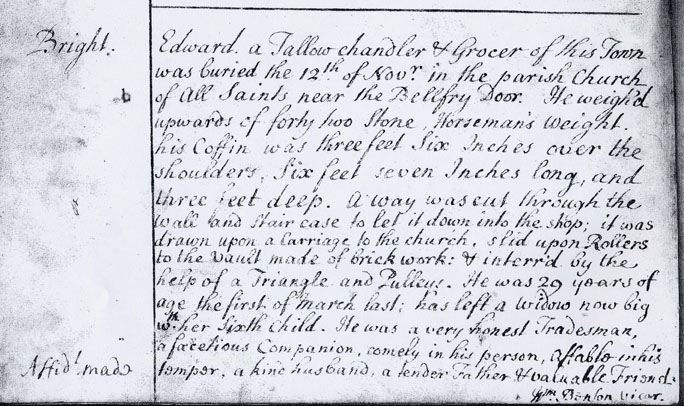 It will be seen that the above says 'he weighed upwards of forty two stone' (588 pounds) but the more popular belief is that his weight exceeded 44 stones (616 pounds). Edward died of typhoid and Mary, his wife, outlived him by 36 years.
The story is told of a joker in a local pub who tempted an inveterate gambler with a bet that seven hundred men would fit into Edward Bright's waistcoat ('vest' in the USA). The bet was accepted but the gambler lost because seven men from the Dengie Hundred (a local area) fitted into the waistcoat.
Edward is pictured below