The Ministry of Healing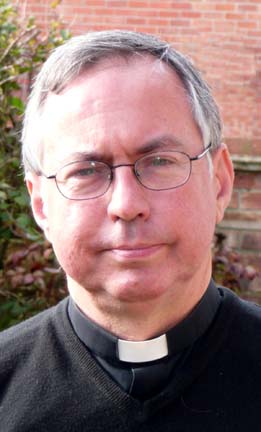 THE MINISTRY OF HEALING
At 11.00am on Maundy Thursday, the clergy and lay ministers of the Diocese will gather in the Cathedral for the "Chrism Eucharist". This is a very moving service, in which the deacons, priest and bishops all renew their ordination vows, and all those present are invited to reaffirm their own vocation to serve Christ in whatever ministry they have been called to. All are welcome to attend this service, and the Ministry Team would be delighted to see anyone from our parish at the service.
During the service, the Bishop blesses the oils that are to be used across the diocese for anointing at baptism and confirmation, and also for anointing the sick. At one time, it was only those who were near to death who were anointed during sickness. But the Church has rediscovered the New Testament understanding that anointing is a sacrament of healing, and not just to be used for those "in extremis". In the Epistle of James, the Apostle gives instructions that those in the Christian community who are sick should receive prayer with the laying on of hands, and be anointed with oil.
In the Cathedral, the Bishop will use a very beautiful prayer for the blessing of the oil for the sick "Blessed are you sovereign God, gentle and merciful, creator of heaven and earth. Your anointed Son brought healing to those in weakness and distress. By the power of your Spirit, may your blessing rest on those who are anointed with oil in your name; may they be made whole in body and spirit, restored in your image, renewed in your love, and serve you as sons and daughters in your kingdom"
The Church has not always been good at making people aware that there is a ministry of prayer for healing. Most people probably know that we pray regularly for the sick. Each day, at morning and evening prayer, we remember before God those who are in need of healing. There is also a "prayer chain" of people in All Saints who pray regularly for the sick. And we do have occasional services of prayer for healing. But many people do not know that there is this sacramental dimension, so that when we are sick, we may receive the laying on of hands and anointing.
There may be all sorts of reasons people are reluctant to ask for this ministry. It may simply be our English reserve, that we do not like to draw attention to ourselves, or "make a fuss". Or it may be that we are sceptical that it will do any good. After all, many of us have prayed for people who have not received the physical healing that we would have wanted for them.
Perhaps we need to reflect first of all on what the healing ministry is NOT. It is not a guarantee that those we pray for will get physically better. (though miracles can and do happen) It does not mean that if there is no physical healing, it is because we have not had enough faith. But the ministry of healing IS about drawing us more fully into the love of God, and as we draw near to him knowing he will meet us at the point of our deepest need.
I would like to share with you my own experience of being on the receiving end of this ministry. When I was preparing to return to hospital for brain surgery, my colleagues in the ministry team prayed with me in church, anointed me and laid hands on me. I am sure that this gave me strength and peace of mind to face whatever was to come. Being a coward, I know these resources did not come from within myself. I still believe there was some grace in the sacrament which would have been as real whether or not I had experienced physical recovery.
The Church is called to be a healing community. Yes, we should continue to pray for the sick and do all we can to support them. But there is a deeper healing which we bear witness to: the healing of the separation between people and God, and the healing of the divisions and prejudices that separate people from one another.
In the Eucharist we are shown that we are called to be a healing and a healed community. As we say at the peace "Christ is our peace. He has reconciled us to God in one body by the cross. We meet in his name and we share his peace."
Stephen Carter